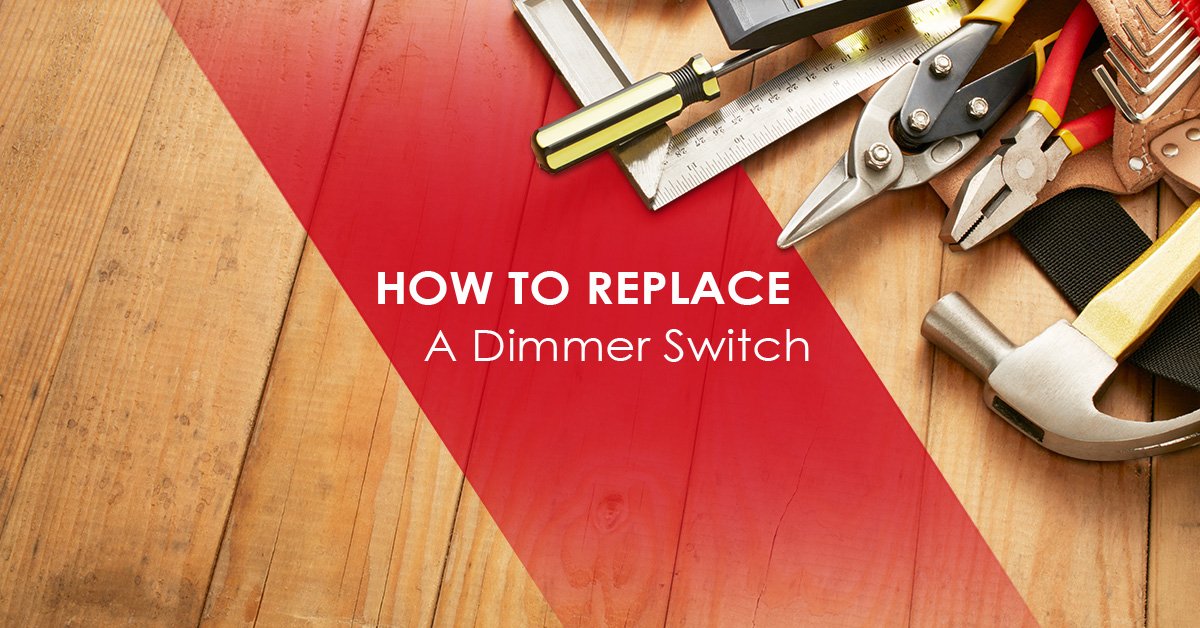 Enjoying a nice night in, red wine, cheese plates, and a great movie. While the lights are at a nice setting, your dimmer switch goes out, what's next? You're going to need to know how to replace a dimmer switch.
Maybe you'd like to upgrade your dimmer switch. Knowing how to replace it is crucial.
We're asked pretty frequency how to replace a dimmer switch. We've brought you several different perspectives of smart lighting recently and we're continuing that strand today.
Earlier this week, we looked at several different methods of controlling your lighting.
We also walked you through the benefits of smart bulbs, plugs and switches so you can get the right solution for your needs.
After a detailed study of how dimmer switches work, today we're going to double down on how to replace a dimmer switch the easy way.
Luckily, although home automation can be technical and often complex, a dimmer switch is a simple concept and replacing one isn't too much hard work either.
What Is a Dimmer Switch and Why Should You Use One?
No prizes for guessing here…
With dimmers, you can reduce or increase the brightness of your lighting on demand.
You can control the switch from the unit itself, using an app on your smartphone, by voice commands with a digital assistant or from other smart devices like a dedicated controller.
Dimmer switches come into their own when you're using a room for multiple purposes.
In the living room, you might want super-bright Philips Hue lighting when the kids are buckling down to their homework. When it's time to crack out the popcorn and settle in for a movie, use the same lighting but ratchet the brightness down with a simple voice command to create a more relaxed vibe.
Get your day started by asking Alexa to hit the lights and you can kickstart your day with some bright white light. When it's time to wind down for bed, ask for your night routine and down they'll dim.
Aside from mood lighting and sheer convenience, dimmers can also help you to reduce those rampant utility bills. Running a light at half brightness can use 40% less electricity giving you potential monthly savings not to be sniffed at. Your bulbs will last longer when not pressed so hard so dimmers really are the gift that keeps on giving.
Halogen and incandescent bulbs respond best to dimmer switches. While some switches allow you to use LEDs, you won't generally be able to dim these quite so effectively.
How To Replace a Dimmer Switch
Before we give you the simple approach to replace your dimmer switch, here's what you need for the job:
Tools You Need
4-in-1 screwdriver
Needle-nose pliers
Wire (2 lead type)
Voltage tester
Wire stripper
Tape measure
Other Materials You Need
Directions
Turn off the power. This might seem obvious, but failing to do so could bring about a serious accident so make sure power to the switch is cut off at the fuse panel or circuit. Double-check this by turning the light on at the switch. Turn it off again and you're ready to roll.
Remove the switch plate and check for hot wires. Unscrew the switch plate and remove it. Use a non-contact voltage tester to make certain no hot wires remain. With this type of voltage tester, you can determine voltage without needing directly contacting the metal conductor. Hold the tip of the tester around each screw terminal. Check the power is off.
Unscrew the switch. Loosen the screws on the faceplate and remove it from the box. Check how the wiring appears and take a snapshot with your cell phone. You'll have black or blue for neutral and red or brown for live. This depends on when the house was last wired. Green and yellow is the earth wire. Note: If the switch is attached to a pair of white wires, call for an electrician. If the wiring is aluminum, you should also call for professional assistance.
Check box volume: Refer to the National Electrical Code Article 314 for the volume you'll need inside a steel box. Plastic boxes have this figure handily stamped on them. If you've got too many wires and devices in a box, this can lead to short-circuiting, overheating, and even fires. Adhere to minimum box size to safeguard against this.
Think about gauge of wire. Normally, 15-amp circuits are wired with 14-gauge wire while 20-amp circuits call for 12-gauge wire or heavier.
Test ground before connecting. With a modern dimmer, there's either a green grounding wire or, alternatively, a green ground screw. This needs to be connected to a grounding source if there is one. If the wiring has a plastic casing, you'll have copper wires to hook up to the dimmer switch. Some wiring systems have a metal conduit serving this purpose. With the latter, use a neon voltage tester to check for grounding. If so, use a grounding clip or screw to pop a short ground wire to the metal box. Connect this to the dimmer. If testing reveals the box is not grounded, use a plastic cover plate and make certain you've got no metal parts exposed. Test again then turn the power on. Pop the leads of your voltage tester between the screw terminals and the box. If the tester lights up, your box is grounded.
Turn off the power. Do not forget to do this before going any further. We repeat, turn the power off.
Add your new dimmer and grounding clip. Press a grounding clip along with 6 inches of copper wire onto the box using a screwdriver. You'll need to cut away some drywall to give the clip a little clearance.
Pinch the end of the wire. Using your needle-nose pliers, bend the wire back onto the clip and pinch it down tightly so there's no interference with the dimmer switch.
Strip the ends of the wire. Use your wire cutters to cut off the ends of the wire. Strip of 3/8-inch of insulation from the ends.
Connect the wires. If the dimmer has stranded wires, hold the wires together with the stranded wire proud of the solid wire by 1/8-inch. Match connectors to the number and size of wires. Twist a connector clockwise until it's fitting tightly. If the dimmer has screw terminals, strip off ¾-inch of insulation from each wire and form a loop with your needle-nose pliers. Pop this loop around the terminals then close it up with your pliers. Tighten up the screws and you're done.
Put on the cover plate. Fold up all your wires tidily into the box. Screw the dimmer onto the box. Install the cover plate. Flick the power back on for testing and you should be ready for some mood light action.
5 of the Best Dimmer Switches 2019
Here's a glimpse at a cross-section of 5 of the strongest dimmers on the market to give you some practical examples of what's out there.
We've aimed to show you a broad spread of models rather than lasering in on multiple similar dimmers. As with all elements of home automation, everyone has different needs and, here at Smart Home, we always try to cater for that.
A dimmer can save you money over time and this user-friendly remote control switch from Insteon is our prime pick.
Everyone wants different things from a connected home, not least of which when it comes to control. With Insteon, you've got all based covered. For remote access on your smartphone, programming and scheduling is straightforward thanks to the responsive Insteon app. You can use your favorite voice assistant if you prefer hands-free command. For Alexa and Google Assistant, you'll need the Insteon Hub while for Siri, there's a dedicated Insteon Hub for HomeKit to make that happen. Beyond this, you can operate your dimmer using an Insteon controller.
Whichever route you take, the hub is a worthwhile investment. Check out our detailed look at Insteon to see what you can build out around this wonderful gateway.
Scenes allow you to get multiple devices working together in harmony and creating them is not taxing even if you're not exactly obsessed with tech. This allows you to hit all the lights downstairs or mute the brightness levels in the home theater when it's date night or family movie time.
For a robust and affordable dimmer from a smart home stalwart, Insteon should be at the top of your shortlist.
Benefits
Get a completely customized look with a choice of 3 colors and custom etching
Enjoy full remote dimming control, add the Insteon Hub for Alexa or Google Assistant, or use an Insteon controller
You won't need a C-wire for this dimmer meaning it will slot into almost any home
The first thing to point out is that this WiFi smart dimmer is not cheap. Also, it requires a C-wire so might not slot into an older home without some rewiring. If price and a neutral wire don't present a problem, though, this is one of the most versatile dimmers in a glutted segment of the market.
Scheduling is a cinch in the nimble Wemo app. You can also use an Alexa or Google Home device if you prefer dimming your lights with voice commands.
This switch works neatly with any dimmable bulb whether incandescent, LED or CFL. Wattage capacity is 400 W for the former and 150W for LEDs and CFLs.
You'll get plenty of freedom with scheduling from night mode to away mode and controls are seamless to execute so there's no tedious fiddling around. You'll also be able to take advantage of a range of IFTTT recipes if your scope is more ambitious.
For a flicker-free dimmer experience from a brand you can rely on, roll with the Wemo smart switch and you won't be disappointed.
Benefits
Control dimmer physically, in-app or using voice commands for total flexibility
Away mode scheduling acts as an extra layer of security making it look like your home is occupied when you're on vacation
Ensure that lights programmed to come on at night when you head downstairs are muted not at full brightness
Leviton are well-established on the smart tech scene and this classic Decora dimmer is a pocket-friendly option if you want to replace an existing switch with a smartened-up alternative. Follow our simple guidelines above to take care of this.
Ratings are 450 watts for LEDs or CFLs and 1000 watts for incandescent bulbs. It can also accommodate fluorescent loads up to 1000VA. You should be aware in advance you will need a neutral wire, though. If you have an older home, this might require a little attention.
That aside, this makes a wise bet if you don't want to go overboard automating your home. We say that since you won't need to invest in a hub to enjoy complete remote access from your smartphone. Add in an Alexa-enabled device and you can take charge with nothing but voice commands.
Whether it's a single pole or a multi-way dimmer you need to swap out, the Leviton Decora makes a worthy addition to any connected home.
Benefits
This switch allows for remote control in-app on your smartphone with no need for a third-party hub
Group lights together and set scenes of schedule in the responsive, intuitive app
3-way dimming with multiple remotes makes this a great solution for larger smart homes
This classic double on/off and dimmer switch from Lutron slips into homes with no C-wire making it suitable for just about any purposes without the call for additional electrical work.
The LEDs are also dual-purpose. They illustrate brightness levels at a glance and also help if you're looking for the switch in the dark.
You don't get the benefits of remote control or Alexa-capability with this switch but we try to include something for everyone here at Smart Home. If you want to add some versatility to your lighting and you're not obsessed with filling every corner of your connected home with gadgetry, sometimes the tried-and-true methods work best so why not give this nifty dual dimmer and switch a shot?
Benefits
Works well with the stacked arrangements you find in your bathroom or kitchen
No requirement for a neutral wire
Combines light switch and dimmer control in one unit
We've recently been digging deep into Z-Wave, a classic communication protocol and rival to Zigbee for dominance in domotics. This HomeSeer uses the new and improved Z-Wave Plus so you can make use of the majority of controllers to take charge of dimming duties.
Getting up and running is super-simple and, as with all Z-Wave devices, communication is totally dependable.
You'll be able to fine-tune the rate of dimming and there's a handy strip of lights to help you out along with instant status reports although for the latter you'll need the HomeSeer HomeTroller to be certain of compatibility. Other controllers work but not always for the purposes of central scenes or reporting.
Z-Wave kit is not a solution for everyone but this dimmer switch is ideal if you've got a little technical know-how and you want a robust, versatile
Benefits
Use to create scenes as a scene controller thanks to Z-Wave Plus
Employ this switch as part of a HomeSeer ecosystem and trigger multiple events for your complete convenience
Tweak the dim rate and see at a glance the brightness levels with a strip of 7 tiny LEDs
Final Word
We trust you've found some useful pointers in today's glimpse at how to replace a dimmer switch.
With any luck, you've also now got a suitable dimmer in your sights so you don't need to waste too much of your precious time on the buying trail.
We've got a busy finish to the month planned for our home automation blog so keep coming back for more of the best smart home news and the most effective products in a swelling market.
The post How To Replace a Dimmer Switch appeared first on Smarthome Blog.